Easter Weekend Angling Competition 2008
Bredasdorp Rock and Surf Angling Club hosted an Angling competition during the Easter weekend of 2008. Great prizes were won!!!
Here are some photographs of the winners:
(Click on the thumbnails for a bigger version)
---
Second Prize

3 Pc Fishing Rod and Sh'Zen Pedicure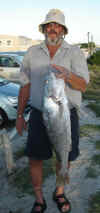 Wicus Rossouw
Cob of 5.95kg
---
Ladies Prize
Gift pack
No winner
---
Junior Prize

Fishing Bag
, Cap and Pizza World Gift voucher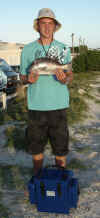 Theo Fourie
Galjoen of 1.05kg
---
Species Prizes
Species Prize - Biggest Cob

Beige jacket, Big Hat, Toolset and Glasses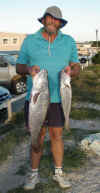 Faan Nieuwenhuis
Cob of 5.7kg
Species Prize - Biggest Galjoen

Green Camping chair, Big Hat, Wine and Glasses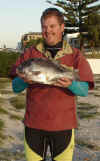 Jacob du Plessis
Galjoen of 1.4kg
Species Prize - Biggest Shad

Blue shirt, BKB hat, Wine
Wian Erasmus
Shad of 0.95kg
Species Prize - Biggest Steenbras

Trolley Jack, Glassee, Core
Cap

Gerhard Nieuwenhuis
Steenbras of 2.65kg
We would like to thank our sponsors for their contribution to make this event a success.
Hexvallei Sekuriteit : Marius Pheiffer
ESA
Gremlin
Salon Aspella : Karien le Roux
Mariëtte du Plessis
Core Catering and Hotel Supplies
De Kleine drankwinkel
Ben Koekemoer
CEO Field Services
Oupos Bed en Ontbyt
Suidpunt Potpourri
Pizzaworld Bredasdorp
Villiersdorp Bandediens
Piet Swart
Frik van Dyk
Suidpunt Superette
Lood du Plessis
Mario du Plessis
Marais Rossouw
Freek Rossouw
Cornelius Blom
Mike Swart
André Krahtz
Morning Glory, Struisbaai
Riaan van Rensburg en Theo Fourie
Prominent Paints
Contact me if you want any of these pictures and I will gladly E-Mail them to you.